This post is reproduced with the permission of the author Angela Dapper, an award-winning Architect and Partner with Denton Corker Marshall. It was originally published in Architect's Journal, November 2017.
It was written following the Construction Sector's biggest trade show of the year – UK Construction Week – where an exhibitor's stand featured a group of showgirls. Angela's views were shared by many who attended and the exhibitors concerned have apologised. The show organisers have committed to making sure the circumstances are not repeated.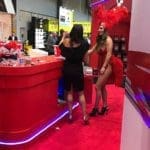 Angela has, however, captured the underlying issue that would lead to a company having the crass idea that sexist displays will be good for business – continuing dated attitudes within the construction sector.
"Showgirls were an inappropriate choice of entertainment for UK Construction Week"
Angela Dapper
"I don't have a problem with showgirls. I do have an issue when an overtly sexualised image is used for marketing my industry.
We should be aspiring towards an industry that is welcoming, diverse and supportive. The use of showgirls at a construction event achieves the opposite, it reinforces that construction is a man's world.
There are many reasons why it is not okay.
Women are still sexualised in construction.
It is still awkward to be a female on a construction site. Although it is less common than a decade ago, jeers and wolf-whistles still occur on site. During a recent visit to a high-profile construction site, I managed to get no less than six cat calls / wolf whistles during my one-hour tour. It is not only awkward and embarrassing but it undermines the concept of women as equals. Being subjected to this continual low-level harassment as a result of my gender, subverts my professional role.
It is a male dominated industry.
Being a male dominated industry does not mean it should be unwelcoming towards women. However, the use of showgirls as 'entertainment' perpetuates a perception of women that we should be steering away from. It is a reflection of the days of the nude calendar in the canteen (it was in the print room in my first office). More should be done to make the construction industry friendly and welcoming for women.
Sex and discussion about sex, shouldn't have a place in a work environment.
Not everyone is comfortable talking about sex. If this kind of entertainment further marginalises certain groups of people in the construction industry, then it is clearly inappropriate.
This choice of entertainment appears to be in response to a gender stereotype of our industry. We need to carefully consider what image our industry outwardly presents. Architecture as a profession has been working hard to establish gender equality. The Architects' Journal's Women in Architecture campaign annually highlights the struggle to retain women in architecture and inequality in pay. I applaud all they do, but am saddened that sexism nevertheless continues year on year.
We are currently amidst an international uprising against sexual harassment, enabling people to become empowered to raise awareness of their experiences. The construction industry should respond positively to this movement. Victims of harassment should not be expected to raise their own experiences of harassment, there should be a supportive culture where harassment is not only not tolerated but is named as such.
Industry leaders should be making a stand not only about sexual harassment but about equality and diversity. Construction institutions should be stepping up to set a positive culture for all who work in construction now and in the future. This is a great opportunity to reframe how we move forward in the industry to encourage more equality and diversity.
I have had numerous positive experiences in the construction industry and also on site, previously one of the more challenging contexts, far outweigh the negatives. Our recent and current contractors have been great to work with and very rarely is gender or equality raised as an issue. In a few, very isolated instances, where sexism has been experienced on site, the contractors have literally leapt into action in response to inappropriate comments.
The use of showgirls as entertainment is not an image that we should use to represent the construction industry, but I don't want to see apologies from the organisers, I want to hear the industry jump in response with a resounding "No, this is not okay." I would hope that the construction industry would see showgirls as a mark of where we have been, not where we are at, or where we are going.
The construction industry should create a fair and just environment which is welcoming, diverse and supportive for all."