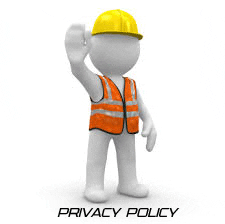 Privacy Policy – Protecting You On Line
At SuperSkills, we believe that people using the internet should be able to do so in privacy.  What you search for, whether it is for Construction Training Courses, cars, or summer holidays, is your business.  However, we also have to make sure people can use the website easily and they can find what they are looking for without any fuss.
The SuperSkills website is our shop.  You would expect to be able to find things in a shop easily.  Or else you wouldn't buy them!  Similarly, you would not expect the shop keeper to tell other people what you looked for.  That is what our Privacy Policy is for.
That's why we use "Google Analytics" to help show use how visitors use the site.  Google Analytics tells us how many people visit.  Also, what they are looking for.  Even more importantly, it tells us if they found it, or if any of the pages are not working properly.  It help us to give our visitors all the information they need, so their questions get answered.
Google Analytics uses "cookies".  Cookies are little files placed on your computer.  These collect standard Internet log information and visitor behaviour information in an anonymous form.
The information from the cookie about your use of the website (including your IP address) is transmitted to Google.
This information is used to evaluate your use of the website and to compile reports on website activity for SuperSkills Limited.
Our Privacy Policy is that we will never (and will not allow any third party to) use the statistical analytics tool to track or to collect any Personally Identifiable Information of visitors to our site.
Google will not associate your IP address with any other data held by Google. Neither we nor Google will link, or seek to link, an IP address with the identity of a computer user.
We will not associate any data gathered from this site with any Personally Identifiable Information.  From any source.  Unless you explicitly submit that information via a fill-in form on our website.
Further Information about Cookies.
The Interactive Advertising Bureau is an industry body. It develops standards and guidelines to support on line business processes. It has produced a series of web pages that explain how cookies work.  You can see this here: https://en.wikipedia.org/wiki/HTTP_cookie.
What we do when you fill in our form
Filling in our web form gives us the minimum amount of information we need to contact you.  We always try to respond to completed forms and to make sure that's done, the information you give is held in a computer based storage system.  We will try to call you and will email/text you if we can't get an answer.  You can always ask not to be contacted again and we will comply with your request.  We don't waste our time chasing people who have clearly changed their mind about getting their NVQ's with us – we're not in the business of the "hard sell".
We regard any contact forms over six months old as "inactive" and our database gets purged regularly.
If you have questions concerning our privacy policy, please contact Peter Walker, Chief Executive of SuperSkills Limited.  Click Here to email him.
Landed here unexpectedly?  Take a look at our NVQ Assessment programmes here.